(Reporters Qian Zhu & Jiu Yue, Shanghai, November 6) In the golden autumn, by the Huangpu River, Shanghai was in the global spotlight again. On November 5, the Fourth China International Import Expo (CIIE) solemnly kicked off at the National Exhibition and Convention Center (Shanghai). For the world, the CIIE is not only an important exhibition and trading platform for commodity trade, but also an important exchange platform for diversified cultures, fully demonstrating the "Global Magnetic Force" of the Chinese market and the Chinese culture.
Exhibition site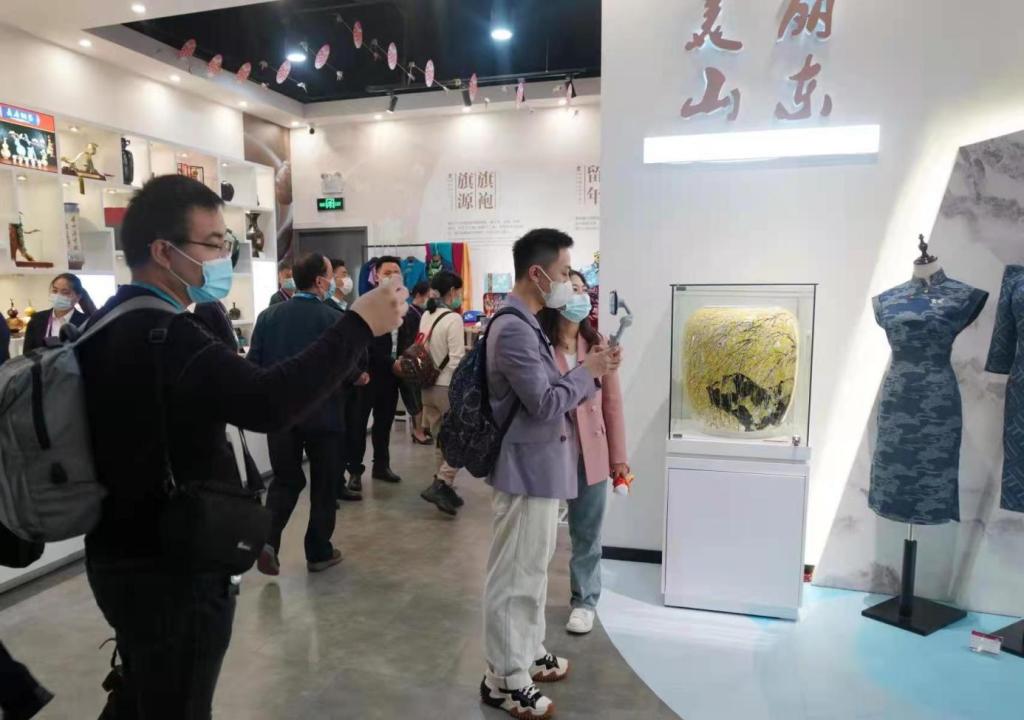 Exhibition site
Among the exhibitors and institutions attending the expo, a higher education institution was particularly conspicuous. As the sole higher education institution at the CIIE, Shandong University of Art & Design brought more than 50 (sets of) updated "Time-Honored Brand" artworks, adding new vitality to these "Time-Honored Brands" with design. Meanwhile, it also brought many of its thoughts on traditional culture, design, business, design education and soft power construction.
As a renowned art and design university in China, Shandong University of Art & Design has been deeply linked with "Intangible Cultural Heritage", "Handicrafts", and "Protection, Inheritance and Creation of Fine Traditional Chinese Culture". In 2018, Sun Lei, head of this project and Dean of Studies of Shandong University of Art & Design, was approved to implement the provincial key project -- "Specialties Connection with Industries for Replacement of Old Growth Drivers with Ones of Shandong Province"; in 2021, he was approved to implement the major art project of the National Social Science Fund – "A Study of Design Innovation and National Cultural Soft Power Construction".
Clothing, ceramics, jewelry, lacquer ware, cast bronze Ding, straw artworks... These works have shown the teaching achievements of attaching equal importance to Confucian business culture and transformation of design and innovation, and demonstrated the excellent culture, ingenious products, as well as advanced and practical school-running philosophy deeply rooted in Shandong to Chinese and foreign guests.
Created by: Pan Lusheng
Title: Peace in All Seasons XI
Material: Colored ceramic painting
Size: 53×60cm
Created in: 2014
Cooperative enterprise: Shandong Futai Ceramics Co., Ltd.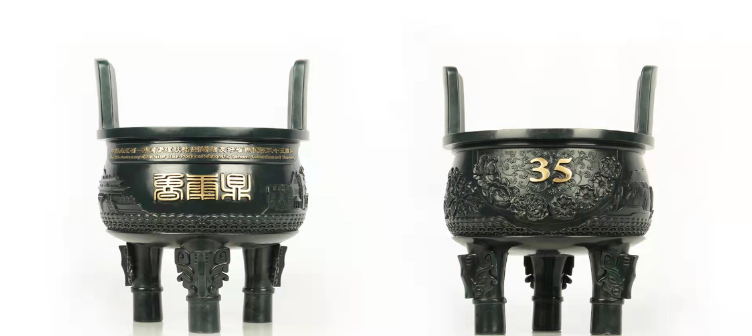 Created by: Pan Lusheng, Zhang Yan
Title: Lukang Ding
Material: Bronze
Size: 35cm×28cm×28cm
Created in: 2021
Gift Design for the 35th Anniversary of Establishment of Shandong and Connecticut Sister-State/Province Relationship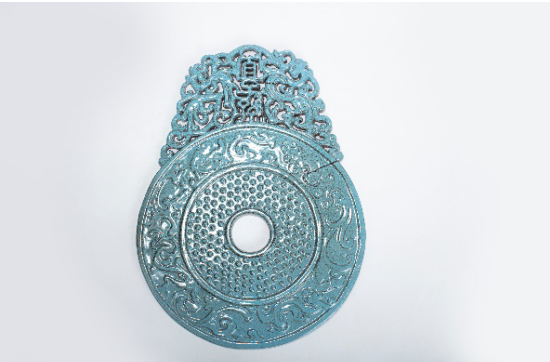 Heirloom Jade -- Beneficial to Offspring
By Cao Shuhai, Sun Shan, Wang Shu
Cooperative enterprise: Qufu Glazed Tile Factory Co., Ltd.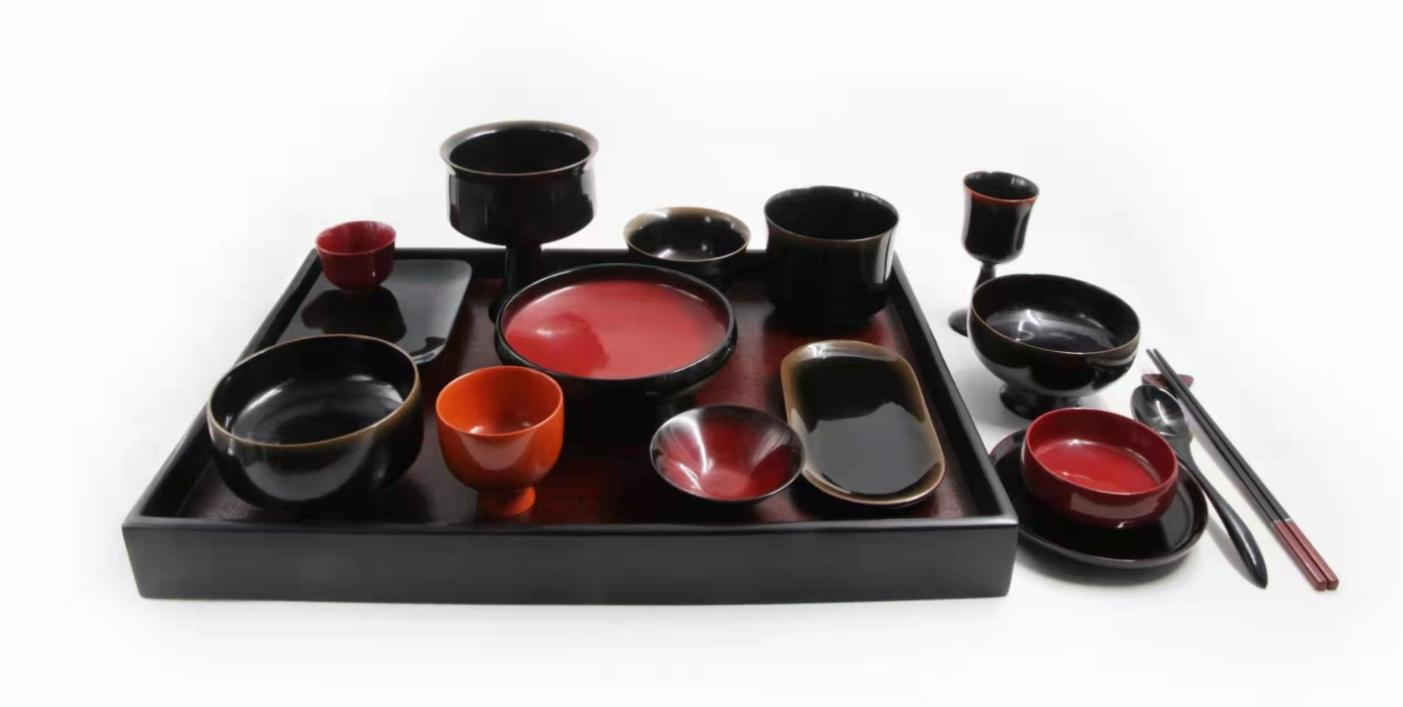 Ritual Vessels -- Lacquered Catering Utensils by Chang Ruihong, Li Xiaomei
Far Kiln Wood-fired Works
Unbounded Series, Life Series, Wandering Earth Series, Bonanza Series, Gilding Series
By Ji Guangyuan, Sun Lei
Cooperative enterprise: Zibo Far Kiln Culture Communication Co., Ltd.
Refreshing Breeze, Bamboo Weaving Teapot, Japanese Pleated Teapot, Let Dreams Fly, Square Pattern, Japanese Auspicious Pattern,The Belt and Road, Refreshing Breeze, Infinity
By Qi Pingchuan, Zhu Aijun
Cooperative enterprise: Shandong Zibo Qiyuantang Artwork Co., Ltd.
Heavenly King
By Wang Shu, Cao Shuhai, Gao Zhentang
Cooperative enterprise: Qufu Glazed Tile Factory Co., Ltd.
Lion King
By Wang Shu, Cao Shuhai, Gao Zhentang
Cooperative enterprise: Qufu Glazed Tile Factory Co., Ltd.
Straw Works
By Cui Weiping, Sun Lei
Cooperative enterprise: Laizhou Lifu Craftworks Co., Ltd.
The most attractive work in the exhibition hall was a ceramic vase titled Peace in All Seasons co-created by Professor Pan Lusheng, President of Shandong University of Art & Design, and Shandong Futai Ceramics Co., Ltd. Professor Pan combined delicate material, fine painting and exquisite workmanship to embody the art and design level of Chinese porcelain, Chinese painting and Chinese kilns complementing one another and blending together.
In addition, there are designer Jiang Qian's Centenary Blossom series jewelry works. For this series, the "filament weaving" technique of the filigree craft -- traditional intangible cultural heritage, is used as the creation technique. Each filament symbolizes a vein of struggling history, and denotes the force committed to the rejuvenation of the Chinese nation. Numerous filaments are combined into budding flowers in the forms of encirclement, interlacement and combinations, implying that under the leadership of the CPC, the people work together and are poised for take-off.
70's Blossom series jewelry work by Jiang Qian
At the exhibition site, a set of cheongsams attracted a lot of attention. They were designed by designer Zou Yuan. In the beginning of the design, the designer carried out an online survey targeting the young people, and the survey showed that the young people prefer the following design points: fashionable design, moderate length, simple color, comfortable fabric, and lessened ornaments. Based on the survey results, the designer first determined to use denim and knitted fabric that are modern and casual. Without too many traditional ornaments, simple in style, novel in material, silhouette design embodying the young people's strength was used to visually challenge the heavy craft of traditional cheongsams. The design theme of white knitted fabric is Sky Mirror. Its style is simple. The designer hoped to create a clean and soft-hearted design atmosphere in reliance upon the rich three-dimensional texture changes of the fabric. The design theme of blue denim is Ultimate Beauty, homophonic with "Qingcheng" (literally, Cyan City) in Chinese. It structurally expresses the modern design sense of urban reinforced concrete by the use of indigo blue.
Zou Yuan's work Sky Mirror [Exhibition and performance directed by: Shen Ting]
Zou Yuan's work Ultimate Beauty [Exhibition and performance directed by: Shen Ting]
The value of handicrafts comes from traditional cultural deposits. In Shandong, many handicrafts handed down from generation to generation have shed new rays of brilliance with the support of designers. Laizhou straw weaving is a national intangible cultural heritage item. Designer Cui Liping and Professor Sun Lei (head of this project) in cooperation with Laizhou Lifu Craftworks Co., Ltd. added fashion to common straw articles. There is a chic Bohemian handbag wearing a "Dress", a simple black and straw-colored backpack, a "Crock-Shaped" bag inspired by a traditional crock... With their design, these common straw articles have attracted European and American fashion icons.
The core of design education is cultivating creative ability. In the future, what kind of design ability shall universities cultivate to boost "National Cultural Power"? What changes does design education need to develop new design abilities? Professor Sun Lei, Dean of Studies of Shandong University of Art & Design, said that in the future, China would gradually realize the transformation from a "Cultural Resource-Rich Country" to a "Strong Country of Cultural Soft Power", from a "Society Focused on Educational Degree" to a "Competency-Based Society". The knowledge pedigree formed by mainstream innovation (driven by "Technological Unification") is restricting the human history knowledge system composed of plurality and diversity worldwide. Thus, there is an urgent need for corresponding non-technical innovation and transferability so as to improve it. He considered, "Design starts from needs, develops with culture, and serves the country. The biggest challenge of art universities is the inadequate cultivation of culture and design iteration ability arising from the transformation and development of the country." Facing the problem, in recent years, Shandong University of Art & Design put forward culture-based overall teaching solutions concerning "Designated Enterprises", "Defined Problems", "Targeted Design" and "Customized Classrooms" to guide courses to be closely connected with such elements as problems, enterprises, markets, technologies, talents and innovation, to enable design innovation and practical ability to be cultivated in the learning process and enhanced in learning outcomes, to propel the coupling development of talent training and project construction, boost the effective cooperation among "Multiple Innovation Entities", including the government, schools and enterprises, to accelerate the chemical reaction of creativity, technology and the market, and to promote achievement transfer and transformation. In this aspect, significant results have been achieved.
This CIIE is the vivid practice epitome of Shandong University of Art & Design practicing its teaching idea of "Taking Culture as the Main Body, Putting Design into Use", instilling projects into teaching, and promoting services through projects.